Buying Your Access Code/eBook – A Step by Step Guide
Before You Start
*Please make sure that you use your TMU email address which ends with @torontomu.ca
You will need your course schedule to properly find your access codes/eBooks. All access codes/eBooks are organized by department and course code. Find your course schedule on RAMSS.
Once you have your course schedule then you can easily find your course material using the website.
If you need more general information about access/codes eBooks then check out the course materials section in our FAQ page.
Selecting Your Access Codes/eBooks
Step 1: In your browser go to the bookstore website https://campusstore.torontomu.ca
Step 2: Click on "Textbooks" to open up the "Course Material" dropdown menu and then click on "Access Codes/ eBooks (Online)"

Step 3: On the Access Codes/eBook (Online) page select the course(s) from the course listings and then click the Search button to see the Access Codes/eBooks for that course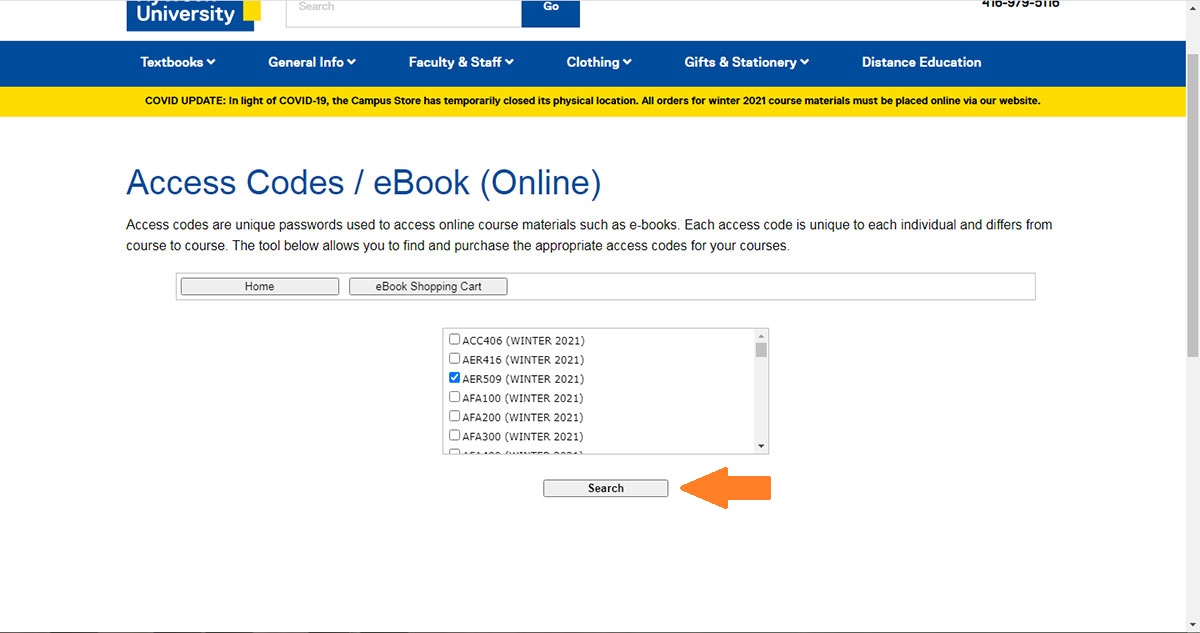 Step 4: Click the Add to Cart button to add the selected Access Code/eBook to your eBook Shopping Cart. Once you click on the button it will be greyed out to let you know that the item was added to your eBook Shopping Cart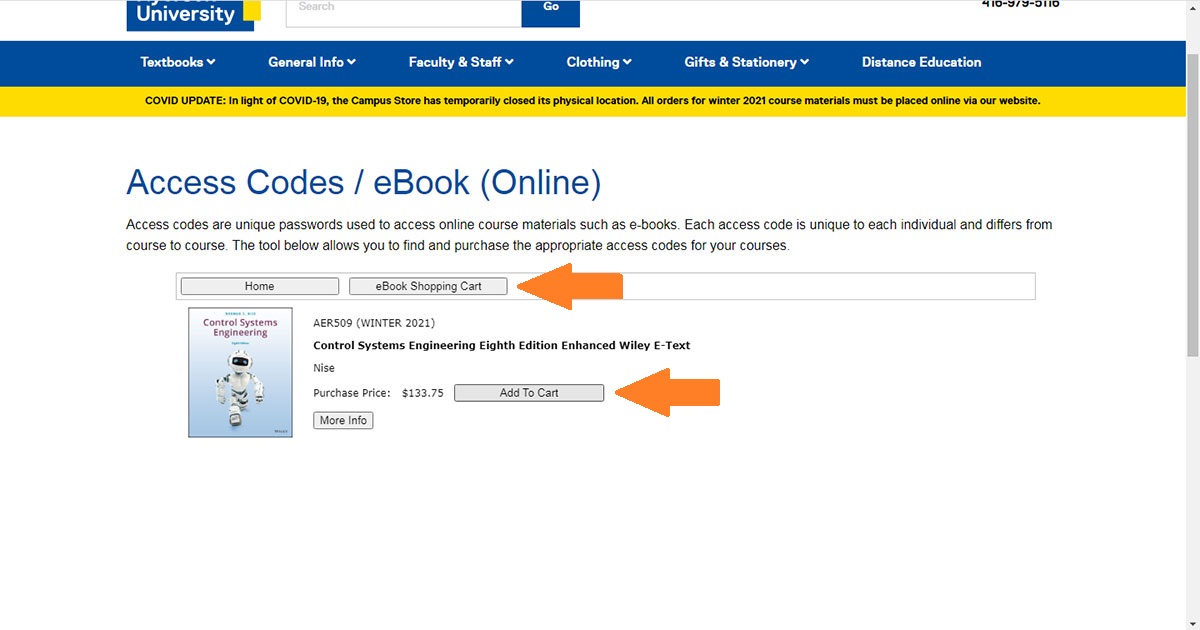 Step 5: Click the eBook Shopping Cart button to view all Access Codes/eBooks you have added to your shopping cart. Do not click the shopping cart icon in the top right corner of the webpage. That icon does not contain any of your Access Code/eBook selections.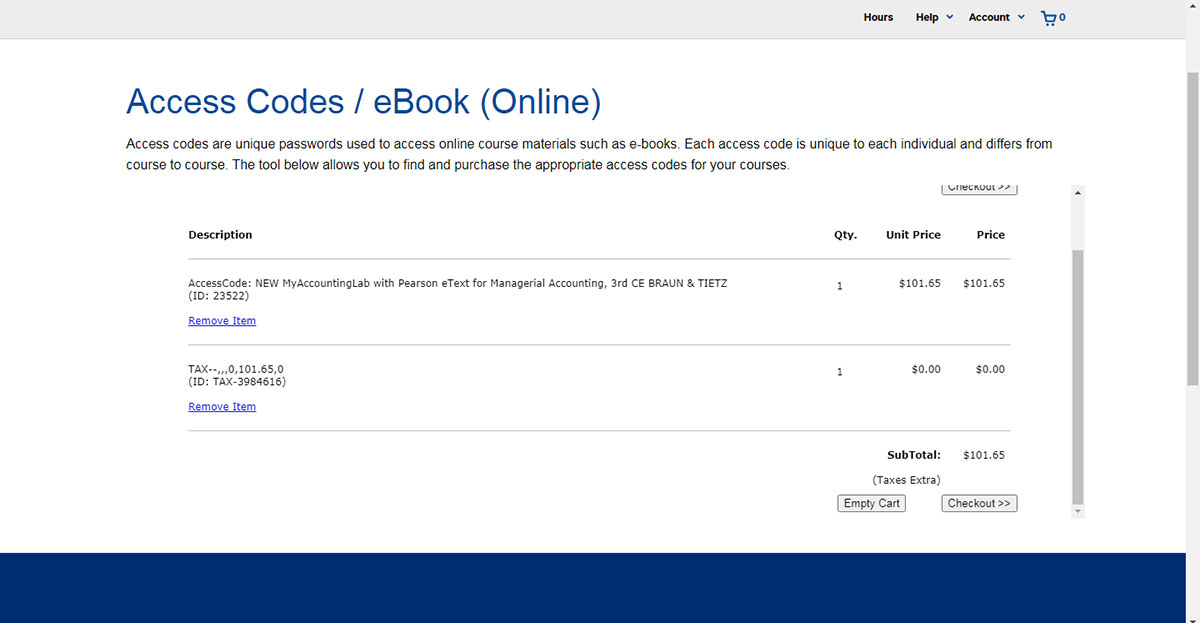 Step 6: Click the Checkout button to begin the payment process for the Access Codes/eBooks
Please read the important information about our policy for returns, refunds or exchanges on digital products. If you agree then press the I Agree, Continue Checkout link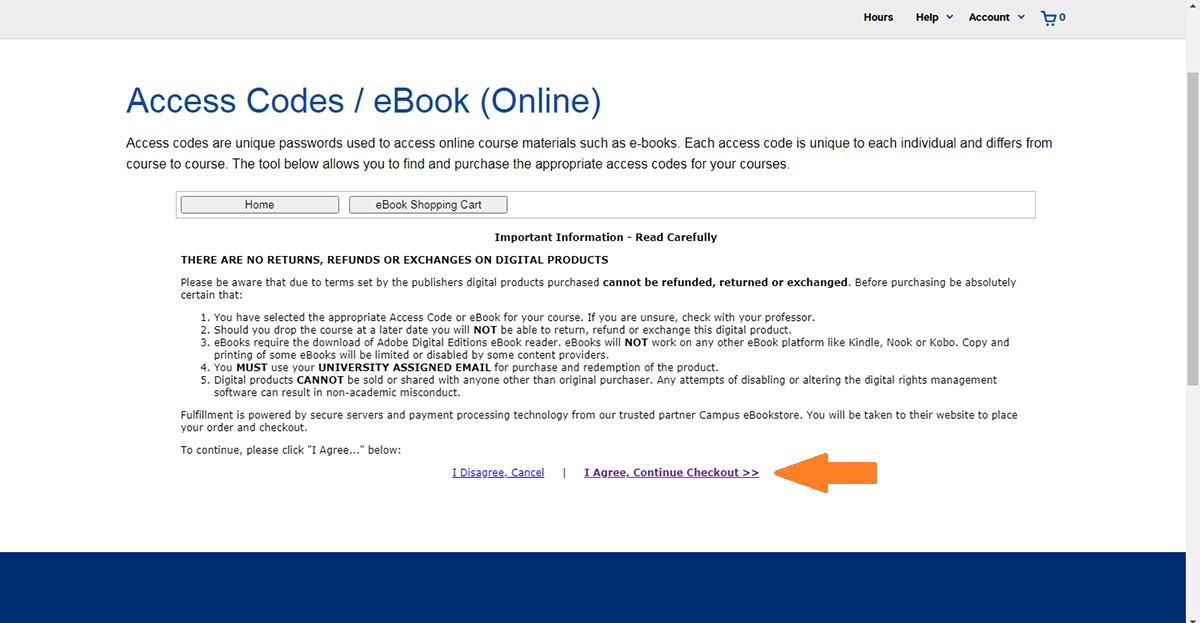 If you are having issues with payment please check out the payment section of our FAQ page for help.
Step 7: You should receive an email with the access code shortly after purchase.
If you are having issues with receiving an email please check out the digital course materials section of our FAQ page for help.