Buying Your Textbooks – A Step by Step Guide
Before You Start
You will need your course schedule to properly find your textbooks. All textbooks are organized by department and course code. Find your course schedule on RAMSS.
Once you have your course schedule then you can easily find your books using the Booklist.
Selecting Your Books
Step 1: In your browser go to the bookstore website https://campusstore.torontomu.ca
Step 2: Click on "Textbooks" to open up the "Course Material" dropdown menu and then click on "Booklist"

Step 3: Use the tables under "Find Your Courses" and choose the current term.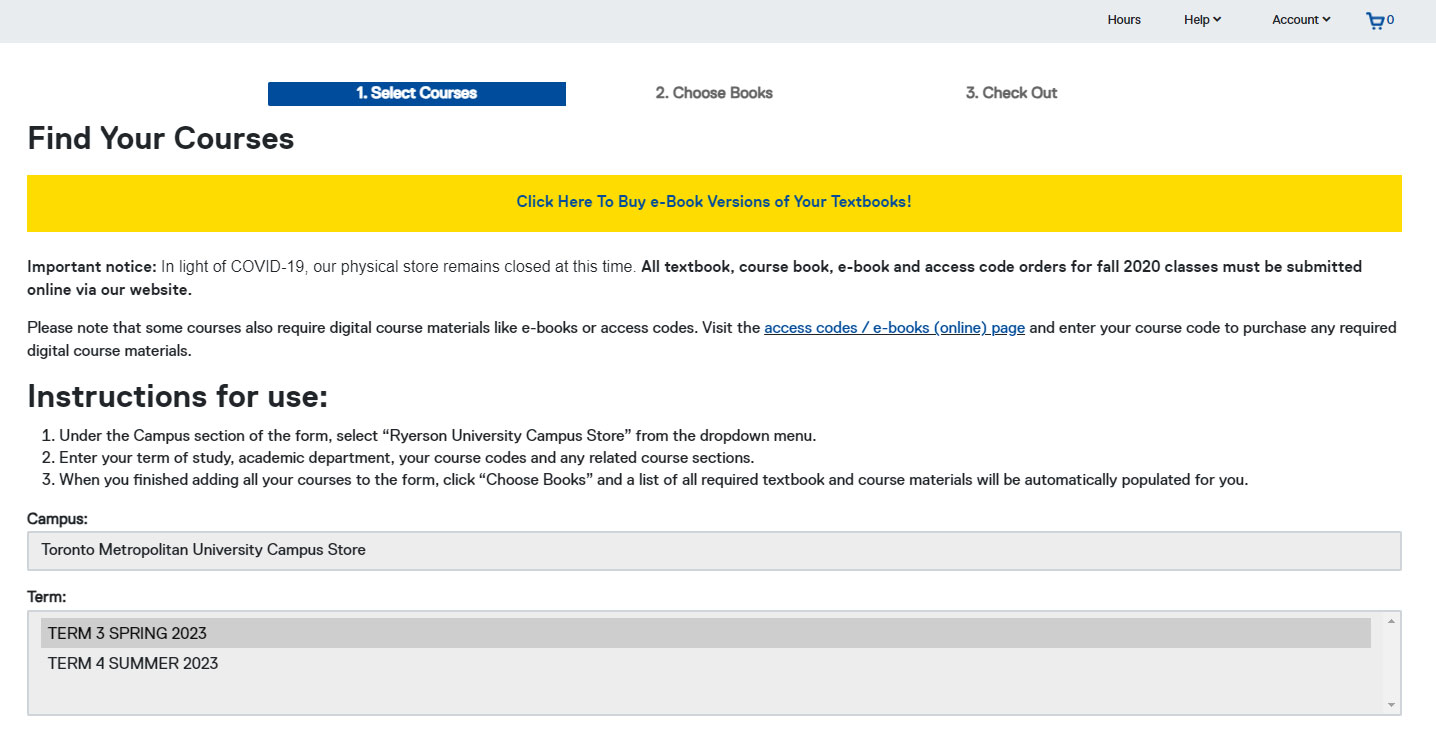 Step 4: Select the Department, Course and Section. All of this information can be found on your course outline or student schedule which you can access through RAMSS.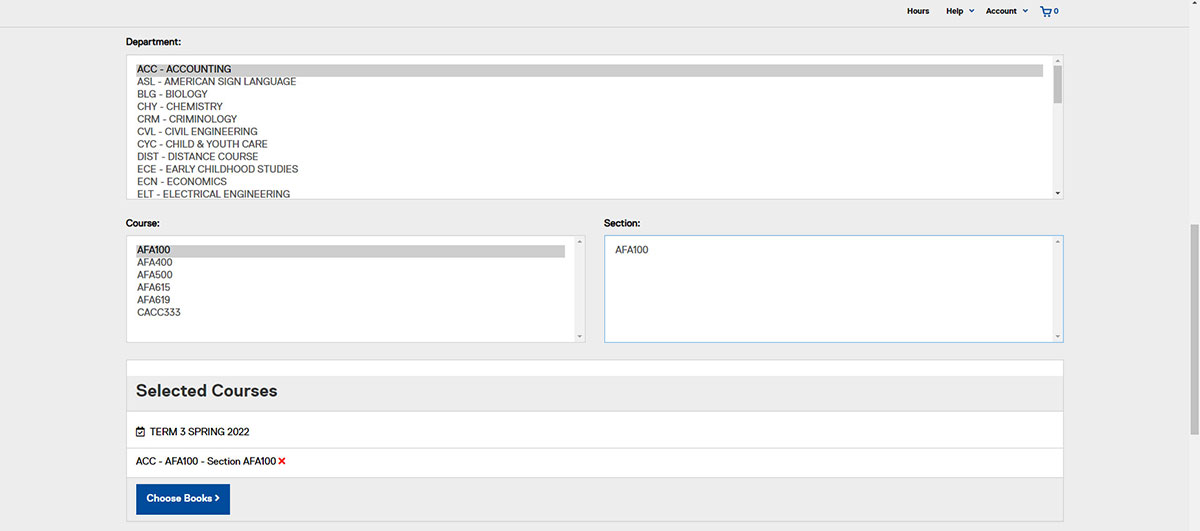 Step 5: Click on the correct Section so that the course appears in the Selected Courses listing. If you don't want that course you can remove it by clicking on the red button. Click the blue "Choose Books" button at the bottom.
If your course and section number is not listed then the best thing to do is attend class for more information. It may be that your professor is not using a textbook or your professor is using a textbook but they still have to order it with the Bookstore.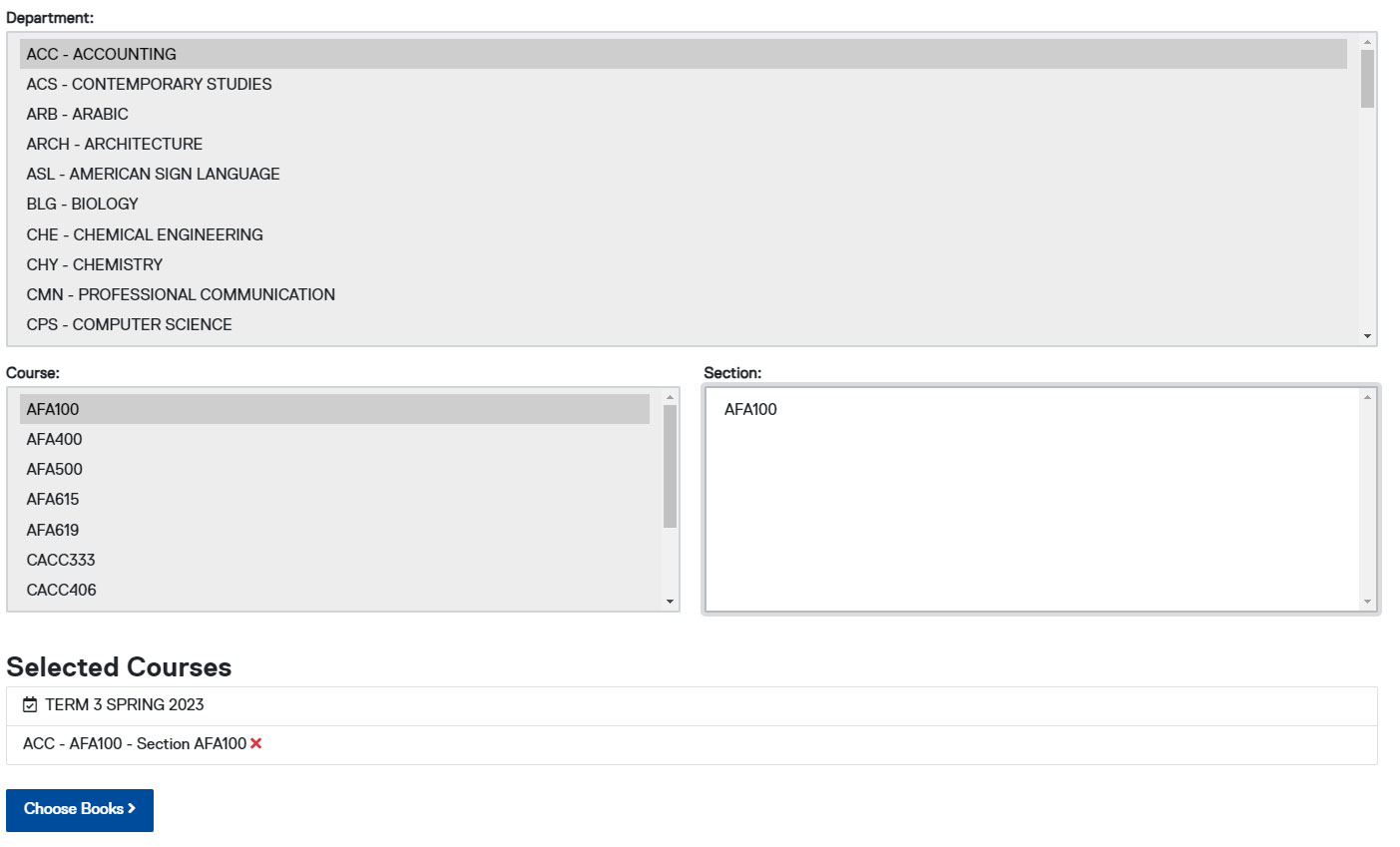 Step 6: Your booklist is generated. On the Courses page you will to see the available textbook(s) for that course. The price for the new and used version of the textbook will be shown in the dropdown next to each textbook.

If a version is not available then the words "Out of Stock" will be shown and its respective selection button will be greyed out.
It's important to note that there may be Optional material on your booklist. Optional materials are assigned by the instructor but are not mandatory for the course. Required materials are mandatory.

Step 7: To add a textbook to your Shopping Cart select the version of it you would like to purchase from the dropdown and then click the "Select Item" button. The number of items in your shopping cart will be updated in the shopping cart icon located in the top right corner of the webpage.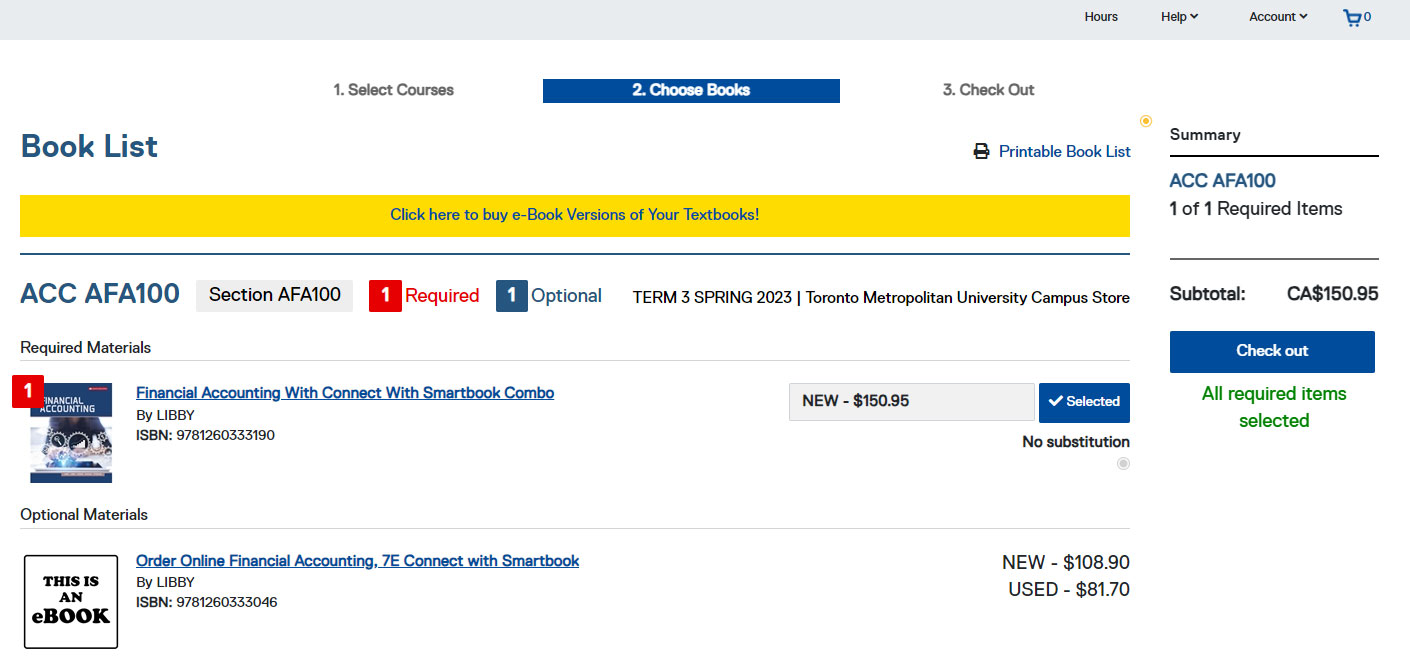 Please note that Shopping Cart icon in the top right corner of the page does not refer to any of your Access Code/eBook selections. The Shopping Cart for your Access Code/eBook selections can be found on the Access Code/eBook page.
Step 8: Once you have added all the required materials to your cart, click the blue "Check out" button.
Payment and Shipping
Step 9: Login to your Campus Bookstore account if you haven't already done so. If you don't have one, you will be prompted to make one. An order cannot be placed without an account.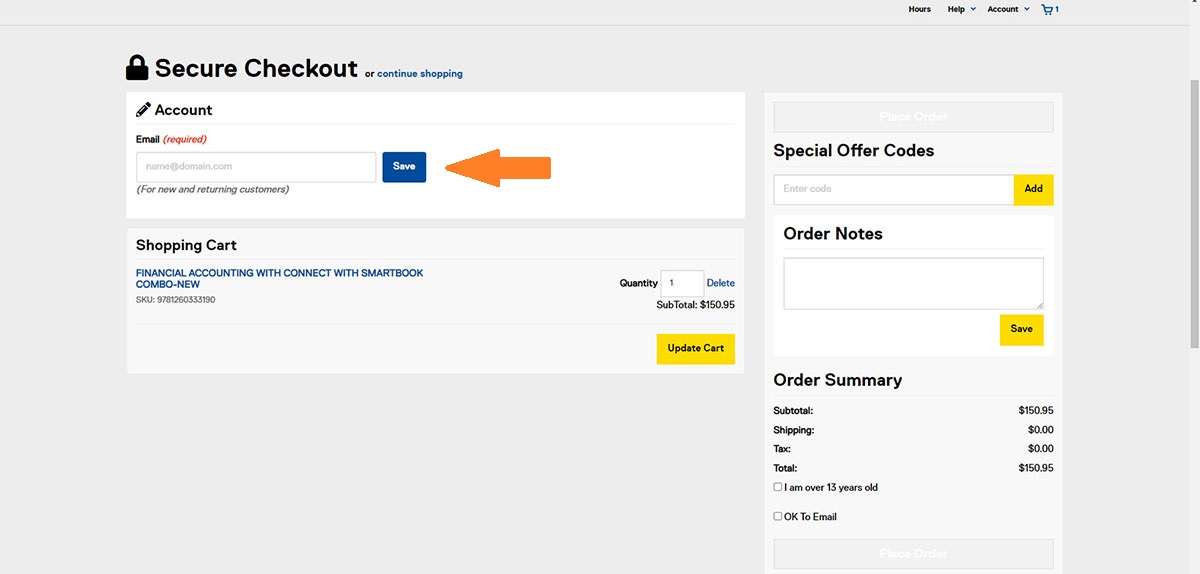 Step 10: Once you are logged in you can enter the Shipping/Billing address. If addresses have already been saved to your account then this field will be automatically with the saved information.
Please note that the billing address must match the billing address that the bank has for the credit card you are using.
Step 11: Pick your Shipping Method.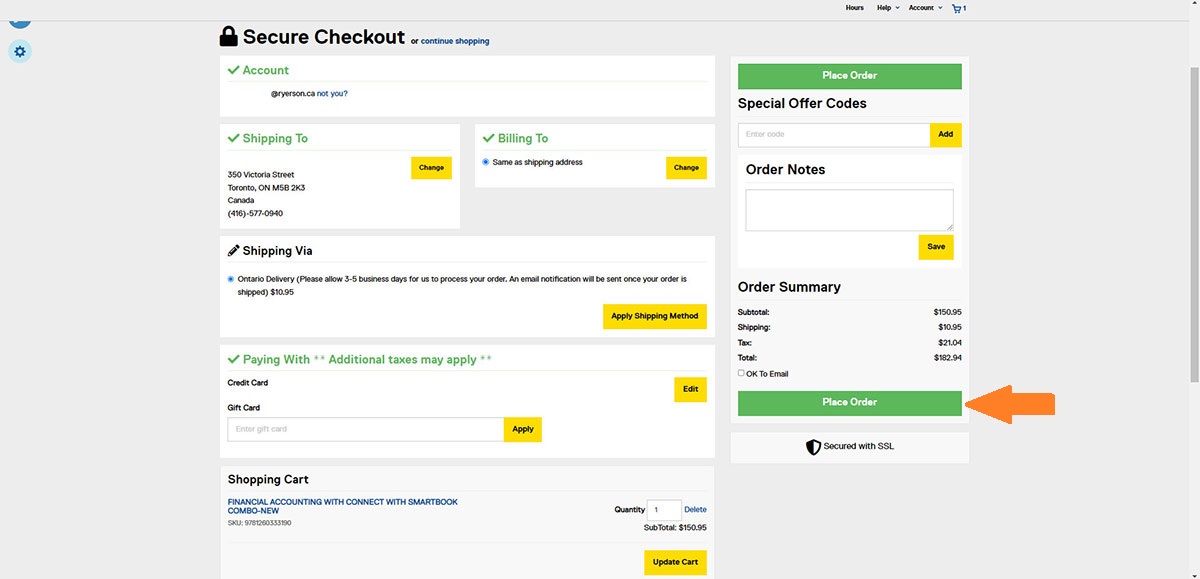 Step 12: Make sure all information shown is correct.
You can add or remove the number of items for any particular item in the Shopping Cart by changing the "Quantity" number shown and then clicking the "Update Cart" button. You can also remove any item from your Shopping Cart by clicking on "Delete" next to the item you no longer want to purchase.
Step 13: Click the "Place Order" button to begin the payment process for the textbooks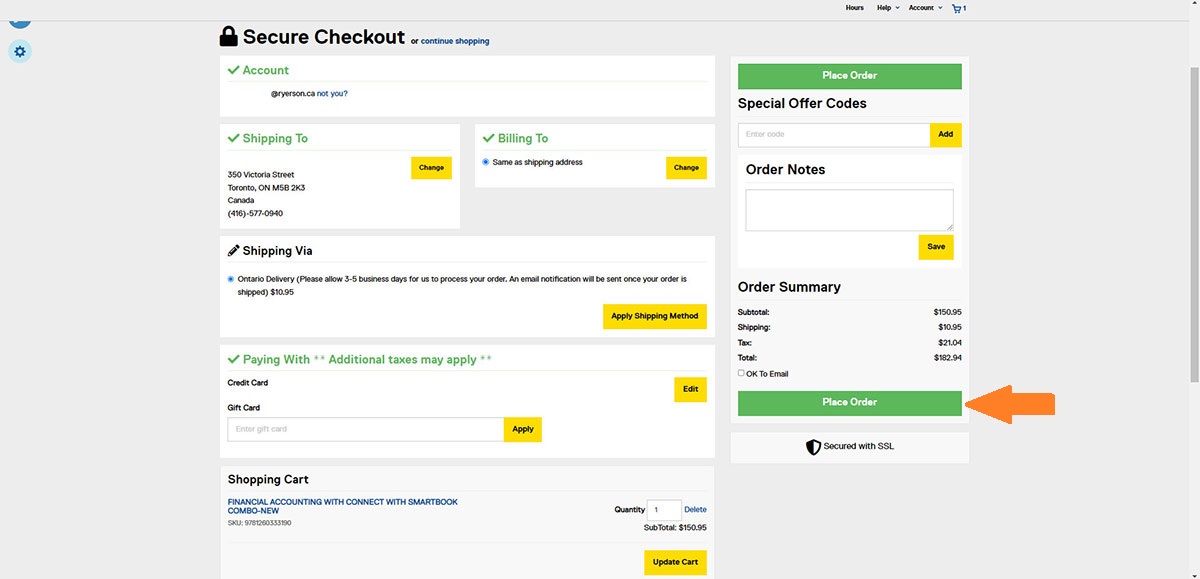 Step 14: Enter your payment information on the secure payment page. We accept Visa and MasterCard.
For all payments, only a Credit Card (Visa, Mastercard or American Express) is accepted. Unfortunately Debit Cards are not accepted.

Once all the information is entered, press the green "Pay" button.
If you are having issues with payment please check out the payment section of our FAQ page for help.
Confirmation Email
Step 15: You will receive a confirmation email outlining details of your order and order number. This email means that we are processing your order. Please keep it available for future reference just in case there is an issue with your order.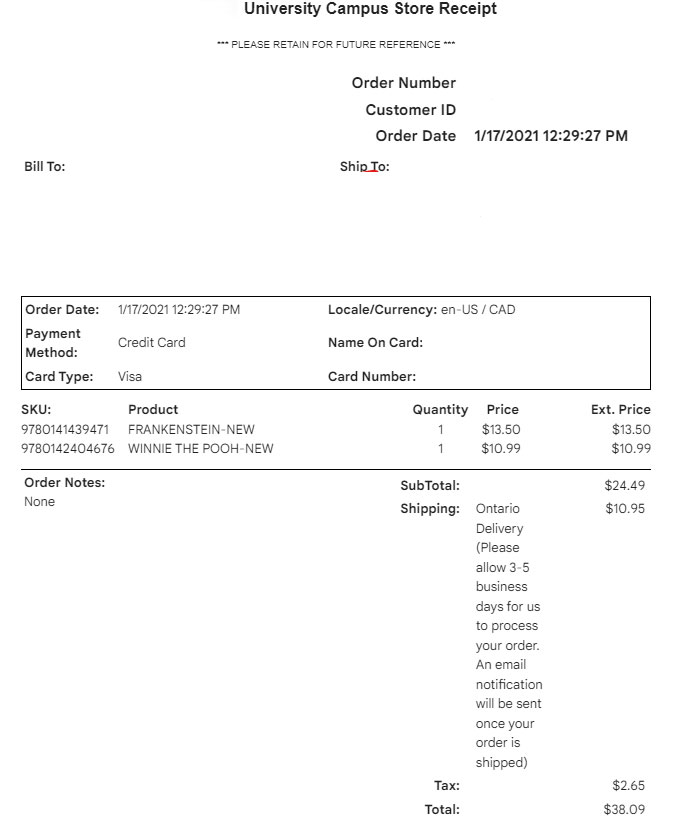 If you need to cancel or make changes to your order contact campusstore@torontomu.ca. Order adjustments cannot be made in your online account.
Step 16: You will receive a second email when your order ships, or is ready for On Campus Pick Up. If your order is shipped you will receive tracking information with delivery details. If you have opted for On Campus Pick Up, it will say "Read for Pick Up". Please bring your student card or a piece of government-issued Photo ID and have your order number when you come to the store.

Please check our Shipping Information Page for more details.
You're done!
Thank you for shopping at Campus Bookstore and good luck with your studies!